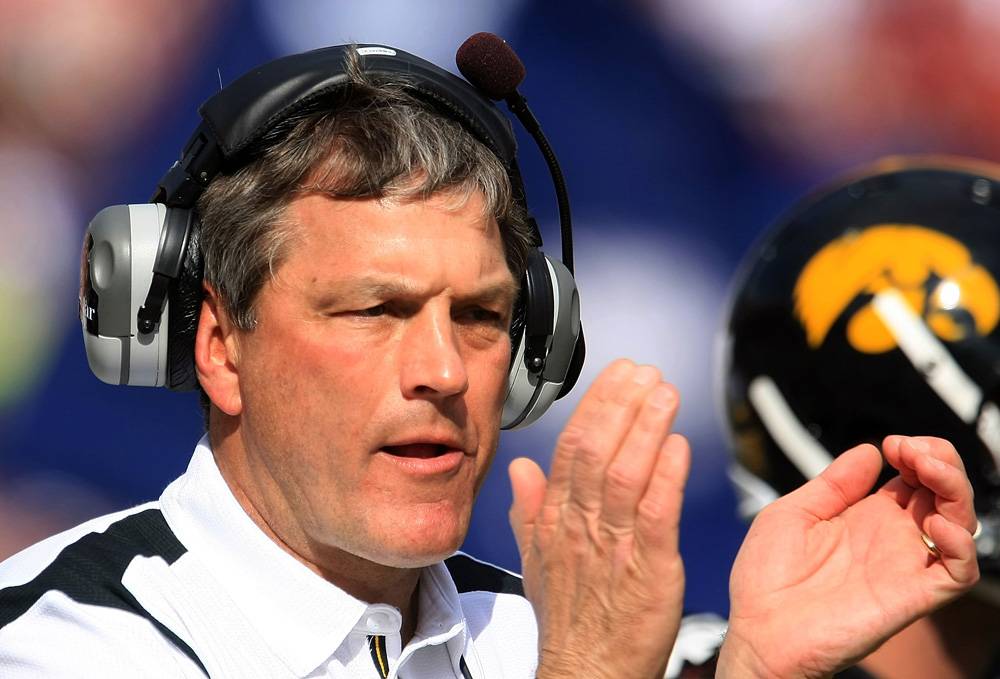 When the topic of overrated college football coaches comes up, names such as Jim Tressel, Mark Richt, Rich Rodriguez and Les Miles are often tossed around. Out of these four coaches, two, (Tressel and Miles) have a BCS National Championship trophy to show. However, Iowa's Kirk Ferentz is rarely mentioned in such conversations. Why is this? I get that he and Iowa have always been media darlings, and I understand his Hawkeyes have been the proverbial fly in the ointment for Penn State annually, but the simple fact remains that while Ferentz has shared two Big Ten titles, he has yet to win one outright since arriving in Iowa City, IA in 1999. However, he still makes $3.02 million annually and was granted a contract extension last year that will keep him at Iowa through the 2015 season.
Today's world of college football is a "what have you done for me lately business". One need not look any further than Tommy Tuberville, Phillip Fulmer, Bobby Bowden or Lloyd Carr to see that. Bowden, Fulmer, and Carr brought national championships to their respective schools, and still were placed on the hot seat when the witch hunts for them began. The college football coaching carousel is forever spinning and the turnover rate for coaches is almost as high as any seedy strip club in middle America. With that said, Ferentz has managed to become the Big Ten's second longest tenured head coach next to Penn State's Joe Paterno, who assumed coaching duties in State College in 1966, the same year that Lunar Orbiter 1 took the first photograph of earth from orbit around the moon. In a conference as competitive as the Big Ten this is more than impressive. What then is with the allure with Ferentz?
Ferentz has amassed an 81-55 (60% win) overall record, and a 49-39 (56% win) Big Ten conference record since taking the job in 1999. While these numbers are above average, they more than likely would not fly in a conference such as the Big XII or the SEC. Supporters of Ferentz point to his two BCS appearances (1-1), his Graduation Success Rate of 74%, and the daunting and unenviable task of trying to lure recruits to play in the state of Iowa as points as to why he's  one of the best in the business. However, outside of Iowa City, many, myself included, are scratching their heads trying to figure out why Ferentz is still being mentioned in the same breath as the Tressels, Sabans, and Mack Browns of college football.
The 2010-11 college football season will likely promise more of the same from Ferentz and his Hawkeyes. While they will probably play spoiler to either Penn State or Ohio State this season, look for them to continue to toe the line of mediocrity nationally.
This article is not intended to bash Ferentz as I have no contempt for the man or for Iowa Hawkeye football. It is just amazing that college football's 8th highest paid coach continues to receive the monetary compensation,media adoration, and pass from scrutiny, while fielding an average product year after year.
That's all for now, but more attention will be given to this topic. Stay tuned for part two.