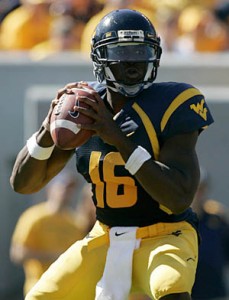 Some say the Big East may not have a national champion contender or even a top 10 contender, but regardless, this will be an exciting year for the conference. From top to bottom, this is one of the most even BCS conferences which will make for exciting match-ups. Since there is not one dominant team in the Big East, several teams have a legitimate shot to win the conference and the automatic BCS berth. After previewing the teams and watching the spring games, it appears West Virginia will have a slight edge.
West Virginia returns its star RB Noel Devine and returning QB Jarrett Brown, who has been in the shadows of NFL bound Pat White, for three years. During Brown's tenure, when White was injured, Brown, a dual-threat QB, showed that he can play and is 2-0 as a starter. This team is on the verge or greatness or disaster. There is no depth at QB (Brown is all they have) and the O line, which was one of the nation's best, is rebuilding. If they can block long enough for Brown, he should be able to hit Arnett and Starks withhis strong arm. The defense should be intact and should keep the games close. They are returning six starters led by LB Reed Williams. Brown and company will be tested early on the road at Auburn and then faces a revenge match against Colorado, with wins there, this team will be heading into conference play on a high note and they have a manageable schedule to do some damage in the Big East. Their big game of the year will be at South Florida on October 30th.
Cincinnati, surprisingly to some, won the conference title last year and is gearing up for the repeat. However, with only 8 returning starters and 1 on defense, there are some concerns. QB Tony Pike and WR Mardy Gilyard will make for a nasty combination and possibly the best one-two offensive combo in the Big East. The O line is solid and will provide the necessary protection for Pike. A HUGE concern for the Bearcats has to be their defense. The defense under Bob Diaco is switching to a 3-4 set. Now the 3-4 is a smart move in the Big East; however, when you have 10 new starters, you must be patient. This team will be tested early and tested frequently. Look for the match-up at Oregon State. The Beavers will attempt to expose every weakness in the Bearcat's inexperienced secondary. This will be the toughest road game in Brian Kelly's career who is rumored to shortly be called up to a high profile coaching job. At this point, he need to focus on his team at hand, and get his defense to gel quickly if he wants to repeat as conference champs.
Rutgers has the potential to be #1 in the Big East. They have a strong O line and their returning defense will be stronger than last years.  D'Imperio is one of the best linebackers in the Big East who hits hard and makes you pay. The key to this team's success or failure rests on the play of senior QBs Domenic Natale/Jabu Lovelace or true freshman Tom Savage (the best QB is yet to be determined, but when they find one, watch out!). This team is coming off of a huge Papajohns.com bowl victory against N.C. State and won the last 6 regular season games. The Scarlet Knight faithful hope the momentum will follow into the 2009-10 season. This positive outlook is not impossible. Their road schedule is not difficult as Maryland will prove to be their toughest away game. As for conference road games, the Scarlet Knights go to Connecticut, Syracuse, and Louisville. All games they can win. However, they conclude the season with a very difficult match-up at home against West Virginia. The new revamped 55,000 seat stadium will be rocking. This game could have conference implications and will definitely determine post season bowl destinations.
Pittsburgh Panthers hope they can build off of their 9 game win last season. Dave Wannstedtis filling key personnel positions and is poised to win with Defense. The Panthers are going to have the best defense in the Big East. The D line is incredible. The linebackers, led by Adam Gunn, are quick and play smart. And the secondary returns three speedy starters. However, the offense, which was shaky last year, will have some issues. The QB position is questionable with no stars in sight. LeSean McCoy left for the NFL, leaving freshman Dion Lewis and redshirt freshman Chris Burns to fill the void. Wannstedt also signed 5 prospect running backs. He is destined to have a comparable replacement to McCoy. On a positive note, Nate Byham returns at TE and if anyone can get the ball to highly touted recruit WR Jonathan Baldwin, he will make plays. Wannstedt wants to get back to the post season form of last year and show the Panther nation that the Sun Bowl loss to Oregon State (0-3) will not happen again.
South Florida has certainly made an impact in the college football world in its brief 13 year tenure. The Bulls have flirted with the top 10 the last two seasons and are poised to be a consistent top 25 team. Leavitt also signed 30 prospects, mostly defenders, to continue this winning trend. This season, however, might prove to be a bit difficult. Matt Grothe is entering his senior season witha very inexperienced line, but with a deep receiving corp led by Jessie Hester, Grothe will put up strong numbers. Grothe is mobile and plays smart so he should overcome the lag time for the O-line to gel. At RB, Plancher and Taylor will have to step up their running game to keep opposing teams off balance and allow Grothe more time to throw the ball. As for defense, Zach Hermann is the only returning starter. The defense also has some question marks. Selvie returns as a Sporting News All-American, but the linebacking corp is not set as in previous years. In the unlikely event the Bulls repeat last years 2-5 conference record, their non-conference games are all winnable, but extremely challenging. An early match-up against Florida State away, will be a heralded test for Grothe and company. Also, the Nov 28th match-up against Miami will be a late season challenge. Provided the Bulls win against their in-state foes, it will justify Leavitt being the highest paid Big East head coach. 
Connecticut is in a rebuilding year after the program lost 4 players to the NFL to include standout Donald Brown. Fans at Storrshave been spoiled with the teams victorious '07 (conference title) and '08 campaigns. This season will not return the same results as the team must be patient with the passing game and running game under new offensive coordinator Moorehead.  The first question to answer is who will start at QB? There is some competition between Frazer and Endres. By the end of the season, both QBs will have significant playing time. The Huskies, however, do have some experience at the wide receiver post led by Kashif Moore and Brad Kanuch. Hopefully, Kashif Moore can improve off of his 27 receptions. The QBs will have to play poised and play with little error to repeat the last two seasons of success. The defense lost five key starters and has a lot of untested players to fill the void, but Todd Orlando has put together another solid squad even though he lost some key players. The linebacker trio of Lloyd, Lutrus, and Wilson is tops in the nation. And the team's special teams will make for good field position. The question remains, will this team gel before it enters the meat of its difficult schedule?
Louisville's 12-1 mark in '06 seems like an eternity ago. In the past two seasons, the Cardinals have won a combined 11 games. This season probably wont be any different. The team has no proven QB and Burke or Froman dont have the arm or the talent as Cantwell or Brohm. It's a shame, because Doug Beaumont has great hands but no one to throw him the ball. Additionally, there is no real good depth at any position. Kragthorpe also cleaned out his staff and replaced them with six new coaches. This will be a rebuilding year for the Cardinals. The players are athletic, but they are just too inexperienced and unproven. Louisville brought in Utah State's head coach to take over as defensive coordinator. He is returning 7 starters to run a 4-3 defense. The linebacking corp is lead by Jon Dempsey and should be solid. Overall, being young, inexperienced, and no veteran QB, coupled with an extremely difficult schedule, this team will not make it to the post season.
Syracuse will be walking out of the tunnel with new head coach Doug Marrone. Marrone has a difficult task ahead of him to bring the Orange back to greatness. He recycled an old custom by burning a pair of practice shoes to rid the team of its 10-37 record under Robinson. Fortunately for 'cuse, junior Mike Williams, who is a great wideout, is now academically eligible to return to the team making for a go to target. The Orange are deep at wideout and Mike Owen is a solid senior TE.  Dantleywill be under center hoping to improve off of the team's three victories last season, but he will have some competition with Duke transfer Greg Paulus. Additionally, Ryan Nassib will be fighting for playing time. A QB battle this summer will be a good thing for this team. Let's hope RB Delone Carter gets to form and piles up some numbers. On defense,  'cuseruns a 4-3 defense with 7 returning starters. This veteran D should rack up better numbers than last year as long as the offense can hold the ball longer and score. Look for DT Arthur Jones to have a standout season. Derrell Smith and Mike Mele should anchor a strong linebacking corp and solid defense. This will be a better year for Syracuse as a team, but opening against the Big 10 (Minnesota, at Penn State, & Northwestern) will certainly be a challenge and could dictate how the rest of the season will turnout. 
This will be a fun and exciting season for the Big East, but in the end West Virginia should hold the top spot and earn that coveted BCS berth.
BIG EAST CHAMPS: WEST VIRGINIA