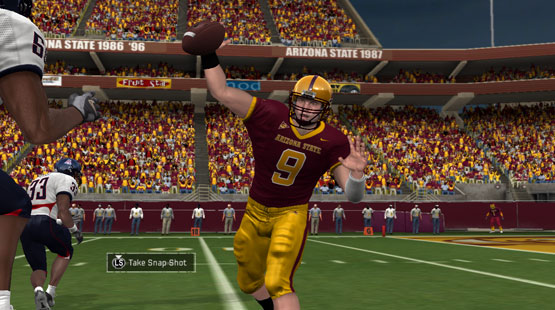 As you  know, back in May, former Arizona State and Nebraska quarterback Sam Keller didn't have the career the recruiters thought he would so he decided to make money the good ole fashion way. Keller sued Electronic Arts and the NCAA for conspiring to use his identity and other college athletes' identities for pecuniary gain, "despite clear prohibitions on the use of student names and likenesses in NCAA bylaws, contracts and licensing agreements." 
Currently, the case is pending in the US District Court for the Northern District of California with Judge Claudia Wilken presiding. It is anticipated, the Defendants will file their Motion to Dismiss on July 29, 2009. A Motions hearing is already scheduled for September 24, 2009 at 2:00 p.m. in Oakland Courtroom 2, 4th floor.
In his complaint, Keller demands disgorgement, actual, statutory and punitive damages, an injunction, and destruction of the offending video games.  However, even though he currently works as a bartender, his attorney has said he is "not interested in getting compensated for himself" and "he just didn't think it appropriate that, given that the NCAA says you can't profit from your likeness … they do the wink and the nod when EA Sports presents them with the game, which has the likeness of the player."
He is represented by Shana Scarlett with Hagens Berman Sobol Shapiro of Berkeley. Additionally, there are 4 other attorneys who are seeking admittance pro hac vice to assist Scarlett with this claim.
EA Sports, Inc. is represented by Keker & Van Nest.
NCAA is represented by Miller Canfield.
Collegiate Licensing is represented by Kilpatric Stockton.