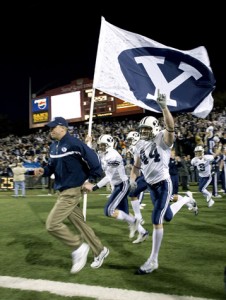 It looks like BYU's head coach Bronco Mendenhall is fed up with the preseason polls. Mendenhall feels that the Mountain West just doesn't get any respect when it comes to rankings and bowl selections. During the conference's annual media blitz, he stated, "I don't think it is possible to pick, nor do I think, philosophically, that there ought to be any preseason polls, period."
He later suggested that "after Game 6, then possibly there is enough information to make a determination. The rest of it is just speculation and things to talk about that don't matter much until we actually know something." Mendenhall's philosophy and expectations are to win every game at home and to win the conference championship and to go to a bowl game and win. For Mendenhall, the polls just don't mean much.
Mendenhall is entering his 5th year at BYU with a career record of 38-13. He is 2-2 in bowl games and has a remarkable 21-3 home record and a 27-5  record vs. conference foes. This year's team hopes to improve off of Mendenhall's fantastic coaching career.
Unfortunately, regardless of how many wins, there is a good possibility that every team from the Mountain West will be looking from the outside during the BCS title game selection.