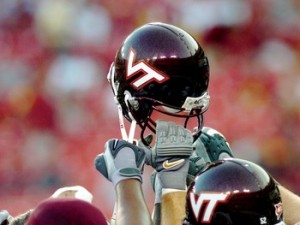 Since 1992, Florida State and Virginia Tech have won a combined 15 ACC titles. Since Florida State and VaTech represent the Atlantic and Coastal divisions respectively, there is a good chance the two teams will meet in the ACC title game. But before I discuss that game, let's look at some of the teams who will make some noise in the otherwise quiet, and what some call second tier, ACC.
Both the Atlantic and Coastal divisions are about as shallow as a toilet bowl. I'm going to go out on a limb here, and against pretty much every college football writer, to pick Maryland to challenge FSU for the Atlantic Crown. I give up on Clemson and C.J. Spiller (see last year's game against Alabama and pretty much the rest of the season). They have QB issues, their LBs are not proven and it's Clemson — they never live up to their potential. NC State will upset teams, but they are too young and thin at key positions to play consistently much less take the crown. BC is returning most of their starters, but with a new coach, new offense and new QB, it will be a long season for the Eagles. That brings us to Maryland. Ralph Friedgen has a good QB and team leader in Chris Turner. The receivers are experienced and are ready to play. Da'Rel Scott is poised to light up the running game. Maryland has been blessed with good recruiting. If this team can gel, Friedgen could rattle the ACC even if the critics pick them to be dead last.
Florida State has a solid O line and a great linebacker in Dekoda Watson. The reason they will fall is their brutal schedule. They are playing 11 bowl teams from 2008. Their away schedule is by far the toughest in the Atlantic with a cross-country trip to BYU, then games at BC, at North Carolina, at Clemson, at Wake, and finishing the season at the National Champ bound Florida Gators. Their D line is too weak and lacks experience to win week in and week out. Also, there are the intangibles: the face of this program is changing. Since when does an FSU player skip the NFL draft to study at Oxford (Kudos to Rolle, but this isn't the typical act of an FSU player).
With that, this is the Terrapins time to shine in the Atlantic division and they will if they get over that first hurdle at Cal.
The Coastal division isn't as complicated in my mind. VaTech will cruise again and win the division. In fact, VaTech has a the schedule to get them to the National Championship game. Their out of conference games include a road trip to Atlanta against Alabama and a home game against Nebraska. If VaTech wants to give the team and conference the respect they covet, they must win both of these games. Georgia Tech and North Carolina might have something to say about it as Georgia Tech is returning a strong offense and Carolina is returning a strong defense. However, neither team will take down VaTech. Also, UNC's final record will be misleading as two wins will be against the Citadel and Georgia Southern — playing those teams doesn't cut it.
Again, the most complete team in the ACC is VaTech led by Tyrod Taylor. The Matador is giving no love to Miami (Randy Shannon, it's just not working out). The last time Miami won a league title was when they played in the Big East in 2003. Virginia's Al Groh needs to figure out a way to put pressure on the ball, and I'm not sold on their version of the spread offense. As for Duke…….well, basketball is really their sport.
ACC Championship Game: Maryland v. VaTech
The Matador's prediction: VaTech wins.
But does all this really matter? The one thing you can bet on for sure, the ACC will not produce a National Champion much less a contender.
Posted By: The Matador