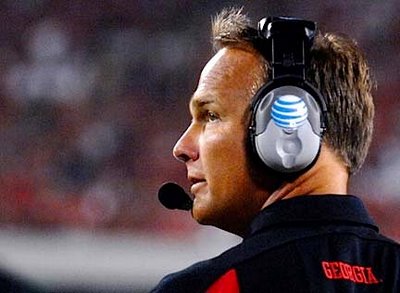 It looks like Georgia's Mark Richt is not welcome at Carver of Columbus after a recent recruiting miscommunication and debacle. Carver's QB Devin Burns was initially offered a scholarship to play for Richt. Once he decided to commit, he and the family traveled to Athens, Georgia to announce his plans to play for the Bulldogs. Burns' family, friends, and teammates all decided to head down to Athens to support his decision and celebrate the joyous occasion. Unfortunately, no one told Burns the scholarship offer was rescinded.  Burns and family were all heartbroken.
Upon hearing this news, Carver coach Dell McGee, in a fit of understandable rage, banned the University of Georgia and Richt from recruiting any of his players. He is no longer welcome at Carver of Columbus. This had an immediate impact as Burns' teammate DE Corey Crawford immediately decided against committing.
On McGee's decision, he states, "I say that to show them that the incident that occurred wasn't appreciated," McGee said. "The biggest thing is, the University of Georgia knew, they had knowledge of Devin and his parents coming there for the weekend. For them not to communicate that they had rescinded that offer before that was not very professional."
McGee spoke with Richt on Sunday by phone and said, "I told him how I felt, and he said he supported my decision and said he didn't blame me." "He apologized. He admitted that they screwed up and didn't handle the situation correctly."–so much for southern charm and hospitality.