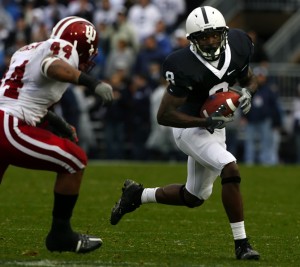 It looks like the Nittany Lions will be down a WR come this fall. Penn State backup receiver James McDonald is off the football team after police charged him with drunken driving. He was picked up at about 2:30 a.m. July 9 in the parking lot of the Nittany Lion Inn for an expired registration. The arresting officer detected a strong odor of alcohol. When McDonald failed the standard field sobriety test, he was taken to Mount Nittany Medical Center where blood tests revealed a .096 blood-alcohol content (BAC). He was subsequently charged with two misdemeanor counts of DUI.
A one-sentence statement Tuesday from the athletic department said the fifth-year senior would not be invited back to the Nittany Lions this fall. The statement did not elaborate.
McDonald caught five passes for 72 yards last season and was expected to gain more playing time as PSU tries to strengthen its WR corp. The 22-year-old from Washington, D.C., who played at Dunbar High School, also faces a violation of driving a car with an expired registration.