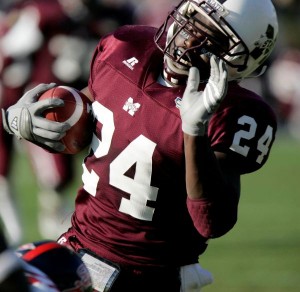 This just in from the AP, Mississippi State's RB Anthony Dixon, recently named preseason second-team All-Southern Conference, was arrested, when officers found Dixon intoxicated with two empty champagne bottles in plain view on the car floor. He was arrested at the corner of Montgomery and Hogan streets in Starkville at 10:14 p.m. this past Saturday. Apparently, Dixon, while driving under the influence of alcohol, drove off the side of the road. When found, one officer noted his slurred speech and bloodshot eyes. It's reported, Dixon also refused his field sobriety test.  
Dixon was also charged with careless driving and no proof of liability insurance.
He is due in court August 17th.