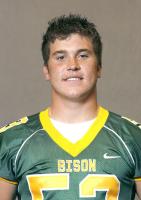 The North Dakota State University football team (6-5, 4-4) suspended linebacker Blake Sczepanski from the team indefinitely after his arrest (by Fargo police) for driving under the influence, according to a press release issued by NDSU. Bison coach Craig Bohl said Sczepanski's status will be determined after going through the university and legal process.
"Blake will not be on our roster at the start of fall camp and his time away from the program will be significant," said Bohl.
Blake is no stranger to the law, as prior to this incident, he pleaded guilty to a minor in possession of alcohol charge last October. He was fined $175 and ordered to perform 16 hours of community service.
Sczepanski, a 6-foot, 224-pound sophomore from Stephen, Minn., played in eight games in 2008 recording 12 tackles.
The Bison can't stay out of trouble, as Sczepanski is the fourth player cited for DUI in the last six months. Defensive end Garrett Johnson was arrested in early March for DUI and minor in possession. Wide receiver Shamen Washington and quarterback Jose Mohler were arrested for DUI about a half hour apart in April. Mohler was also cited for minor in possession. In February, backup quarterback Troy Jackson was arrested for marijuana possession. He was later dismissed from the team for off-the-field issues that were unrelated to the marijuana charge. Wide receiver Jordan Schultenover was dismissed from the team in May and later charged with possession of marijuana with the intent to deliver.
It's going to be a tough year for the Bison amd the Missouri Valley Football Conference.