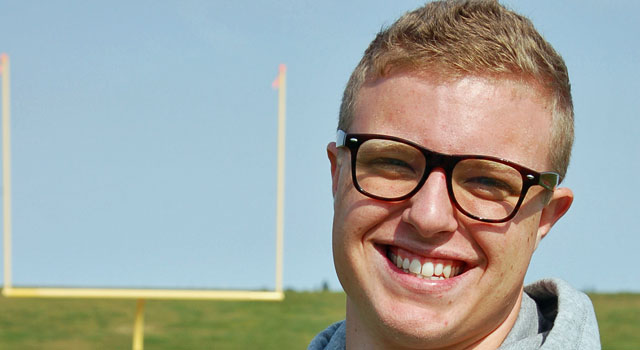 Freshman linebacker Jamie Kuntz, 18, was kicked off the North Dakota State College of Sciences football team for kissing a much-older man during a football game and then lying about it.  Coach Chuck Parsons was adamant that Kuntz was dismissed from the team for lying, not for being gay.
On September 1, 2012, the Wildcats traveled to Pueblo, Colo. to face the Snow College Badgers.  Since Kuntz did not dress for the game and is recovering from a concussion, he was up in the press box videotaping the team's 63-17 loss.  During the game, Kuntz' 65-year old boyfriend was in the press box, leaned over, and suddenly gave Kuntz a kiss.  A startled teammate, who apparently has never been exposed to homosexuality, immediately told Coach Parsons what he witnessed.  Parsons confronted Kuntz about the kiss.  Kuntz lied and told his coach that the man that kissed him was his grandfather. 
At that point the issue was resolved.  However, Kuntz couldn't live with the guilt and on the next day came clean by telling Coach Parsons he lied about the kiss.  The man he kissed was not a relative but rather a boyfriend he met on-line. 
Upon hearing of this shocking news, Coach Parsons dismissed Kuntz for "conduct deemed detrimental to the team," noting the school's policy manual regarding lying to coaches.
Kuntz was saddened by the dismissal and does not believe he was dismissed for lying, but rather dismissed for kissing another man.  He believes if it was a female or an older woman, a kiss wouldn't even be an issue.  There is no word on whether Kuntz will take any legal action but the school is currently investigating the situation.
In the meantime, Kuntz is still dating his elder boyfriend and is considering his walk-on options at neighboring North Dakota programs.