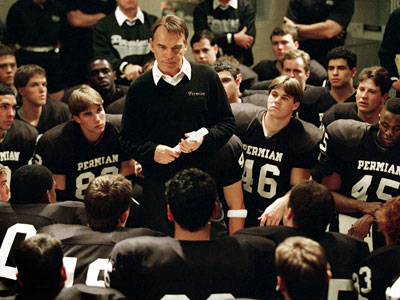 They say football is king, and it's not for nothing. And while Saturdays belong to BCS-beleaguered college football and Sundays to the bounty-placing, money-hungry NFL, Friday night is pure sport.  It's the night when all over America young men step out onto the gridiron to fight for their old alma mater.  In an age of interstate highways and fading small towns, high school football has the power to ignite and unite a town like few things can.  Year after year, the faithful supporters live and die with the team's record.  More so than just a winning football program, it is those fans who make a town one of the best high school football towns in America.
Even the people who live here admit that if you've heard of their town, it's probably because of football.  Where else are newborn boys awarded their own miniature football?  More than half the town's population of 30,000 rock Paul Brown Tiger Stadium each Friday in the fall to root for the Washington High Tigers.  Such passion has fueled the program to become one of the winningest ever, with more than 800 wins, 22 state championships, and two dozen graduates going on to the NFL.  On game day the town is covered with orange and black, from the shop fronts to the fire hydrants, and parades and bonfires fire up the Massillon Proud.
Although Lufkin High has enjoyed a more successful run in the 21st century and has its own devoted fans, 500 miles east lies a place where the citizens eat, sleep, and breathe high school football.  The town is home to the Odessa Permian High Panthers and was the inspiration for the book, TV show, and movie Friday Night Lights, which was a spot-on portrayal of the fervor of small town footballdom.  Here in Odessa, it's not uncommon to hear the annual game against nearby Midland Lee referred to as a "blood rivalry."  Come game night, 20,000 people pack Ratliff Stadium to clang cowbells, pound the bleachers, and chant for the "mojo" of their beloved Panthers.
Louisiana is a giant nuthouse when it comes to football, from fans of the LSU Tigers to the New Orleans Saints.  But the little town of West Monroe is all about the Rebels.  The townspeople virtually define their identity apart from neighboring Monroe by the high school team.  The era of coach Don Show has rewarded the 13,000 residents suffering from "Rebel Mania" with two national championships, eight state titles, and 17 district championships in 19 years.  The atmosphere at home games rivals any college campus, with impressive tailgates, sold-out crowds, an incredible 230-member marching band, and a stadium worthy of it all.
Among this town's claims to fame are Doc Holliday once lived here, there's an excellent fire department, and it has the right to call itself "Winnersville, USA."  It earned this right mainly through its Valdosta High Wildcats' national best record of 869 wins and 205 losses.  In 2008, ESPN and fans around the country made it official, declaring the burg "TitleTown" on the strength of not just the town's 23 state titles but the teams' relationships with the town and its people.  Ten thousand strong turnout for the football game against Lowndes High each year, and the average crowd is 7,500.  One former player summed up playing ball in Valdosta best: "I'd give my whole college career just to play one more game in a Wildcat uniform, and that's not just me.  That's anyone who ever wore that uniform."
Florida is always mentioned along with Texas and California as one of the most high school football-crazy states in the Union, and Belle Glade is a football town to its core.  Kids with little else to do in this tight-knit, low-income community make football their sole pastime and potentially a way to a better life.  No fewer than 27 NFL pros, including Santonio Holmes, James Lee, and Fred Taylor were once Glades Central Raiders, and many of them return to assist the town when they have hit the big time, proving that for Belle Glade, football is more than just a game.
6. Jenks, Okla.
Take one step into the university-quality Robert L. Sharp Health and Fitness Center in Jenks and you'll understand how important high school football is here.  The Jenks High Trojans have 12 state titles to their name, a success the coach largely attributes to the community support the program receives.  That support is on full display every year at the annual Backyard Bowl against rival Union.  The game now brings in 40,000 fans from the two schools, with each side painting their faces and screaming their lungs out.  As a Jenks booster puts it, "I know the boys are tired after the game, but, believe me, the parents are spent as well."
"A Friday night game around here, the town shuts down," says head coach Jamey DuBose.  Apparently local business owners know everyone in town will be watching the Lions play at Stanley-Jensen stadium, or maybe they just don't care about losing money.  The $1.1 million the school spent on football between 2009 and 2011 actually lost the school $30,000 in 2010.  But such is the passion this town has for its team.  At least no one can argue with the results: three straight championships from 2006 to 2008 and continued dominance as one of the area powerhouses.
8. Hampton, Va.
One of the premier schools in Virginia Group AAA football is Hampton High.  The Crabbers have brought home 17 division titles, the most in the state, and two national titles on their way to winning more than 700 games. And the town is fully behind them.  At games, there's a special section for senior citizen alums.  There are fans like Adam "Ham" Rich, who have followed the team for decades and never missed a game.  Thousands of them can be found in John B. Todd Stadium when the Crabbers are chasing down another title.
9. Hoover, Ala.
This town's reputation for high school football fervor prompted MTV to create a TV series called Two-A-Days documenting the lives of a high school football team in a town "where football still rules."  Much of the drama was a result of the intensity for high school football Hoover is known for.  Still, at the time of filming, the Hoover Buccaneers were going for their fourth state championship in five years.  The team remains strong, and it's not unusual for one of their games to be broadcast on ESPN.  When they are, the fans make sure they everyone watching knows how much they love their team.
10. Cincinnati, Ohio
With nearly 300,000 people in the city limits and 50-plus high schools, the Nati has to be pretty special to not spread itself too thin when it comes to being a great high school football town, and it pulls it off.  On the west side, hundreds of fans of the Elder High Panthers are turned away every season for season tickets due to lack of space at The Pit, the team's iconic stadium.  Those unlucky ones have to catch the radio broadcast of the games.  But Cincinnati high school football fans from all over the city help make their town a great venue for the game by making a habit of laying aside local rivalries to pull for Nati football teams against out-of-town opponents.
Sponsored by: http://collegestats.org/