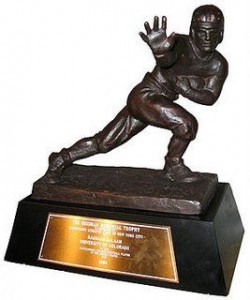 Today is your lucky day! The Matador has his Heisman sleeper picks for you so get your money ready.
Now if you don't recall, last year's Heisman race was an anomaly in that Tim Tebow actually received the most first place votes, yet finished third in the overall ballot behind McCoy and Bradford respectively. If the voting took place after the BCS Championship game, there is no doubt in my mind Tim Tebow would have won after taking down the mighty Sooners, but unfortunately that's not how the award is won. So with that in mind, The Matador is ready to unleash his favorites for the 2009 Heisman Trophy.
Below are probably your favorites, but The Matador doesn't like them and thinks they are bad bets with little to no value:
1) Tim Tebow (QB, Florida) — Tebow is the favorite, but the voters and Archie Griffin don't want a player to win this award twice. It's clear that Urban Meyer's game plan is to make his workhorses drive 80 yards down the field, then run the one yard QB keeper so the maharajah Tebow can get his coveted stats. Percy Harvin's numbers should have been so much greater last year but the coach drew up all the red zone plays for Tebow. However, in the eyes of the public, Tebow is a saint and therefore he should be favored entering the season.
2) McCoy (QB, Texas) / Bradford (QB, Oklahoma) — These two are toss ups. Both were highly valued during the regular season, but as soon as they played teams with real defenses, their numbers plummeted. The voters will remember this when casting their vote. McCoy did throw for 414 yards in the Fiesta Bowl, but that was off of 58 attempts (abnormally high). With those numbers, he still only managed to throw for 2 TDs and had an INT against a stronger Buckeyes' defense. In the BCS Championship game, Bradford threw for a paltry 256 yards off of 41 attempts with 2 TDs and 2 INTs. This is not the sign of a Heisman winner. If anything, Florida's defense, who all return, should have collectively won the Heisman for shutting down the Big 12's so-called elite offense and the SEC all season long. The Sooners scored an average of 55.8 points against Big 12 teams throughout the 2008 regular season, but only 14 against Florida's dominating defense.
Instead, here are The Matador's Top 3 Heisman candidates you may want to invest in:
1. Jahvid Best (RB, Cal) — Best is hands down the best running back in the Pac-10 and maybe in all of college football. He will put up monstrous numbers against some of the terrible Pac-10 defenses. If Cal can win some games and upset USC, this RB will be posing with the Heisman trophy come December.
2. Daryll Clark (QB, Penn State) not Terrelle Pryor (QB, OSU) — Clark will lead the Nittany Lions to its second consecutive Big Ten title. There is so much hype with Pryor and Ohio State winning the Big Ten, but frankly he shouldn't be on your watch list. Pryor hasn't individually proven anything and he had terrible games when it counted against Penn State and Texas (in the Fiesta Bowl, Pryor was shut out with no passing TDs and was held to 5 completions for a total of 66 yards). As a true freshman, Pryor played well but not up to the Heisman hype to be on your watch list. Clark, on the other hand, had an amazing debut as PSU's starting QB, won the Big Ten, and in the Rose Bowl threw for 273 yards, had 2 passing TDs and one rushing TD against what some people said was the best USC defense in school history. I only see improvement with this guy. If he goes 12-0 or 11-1, step aside Tim Tebow so Clark can claim his much deserved trophy.
3. DeMarco Murray (RB, Oklahoma) — Murray is coming off an injury and the Sooners really — let me emphasize this — REALLY missed him in the BCS Championship Game. Murray will be a force to reckon with and will put up another 1000 yards easily this season. If he stays on his feet and out of the hospital, at the end of the season he can rest his sore hamstring on the Heisman trophy.
The dark horses: Jevan Snead (QB, Ole Miss), Zac Robinson (QB, Okla. State), Evan Royster (RB, Penn State), Jonathan Dwyer (RB, Ga. Tech).
If you are wondering why I did not pick any wide receivers, it's because wide receivers just don't win the Heisman. The last to do so was Desmond Howard in 1991. Look at the receiving core last year, none of them even came close. Eight out of the last ten Heismans went to QBs and the way the trend is going, that's not going to change. SO DO NOT WASTE YOUR MONEY. DO NOT PLACE ANY FUTURE ACTION ON ANY WIDE RECEIVER!!!!!
Posted By: The Matador