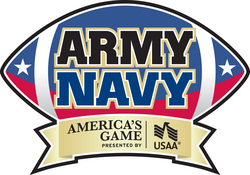 On July 20th, The U.S. Naval Academy and West Point announced the military insurer United Services Automobile Association (USAA) has signed a 10-year agreement to be title sponsor of the annual Army-Navy football game. USAA, which has about 6.8 million members, is based in San Antonio, Texas. It is among the premier providers of banking products, insurance, investments and financial planning to current and former members of the U.S. military and their families – including the cadets and midshipmen from the two academies.
This year's game is scheduled for Dec. 12, at Philadelphia's Lincoln Financial Field. CBS Sports and American Forces Radio & Television will broadcast the game around the world.  Philadelphia will also host the game in 2010, 2012, 2013, 2015 and 2017. The rivalry moves to Washington, D.C., in 2011, while Baltimore plays host in 2014 and 2016.
Navy has a slight edge in the series at 53–49–7.